Photography appeared in the 19th century and the word comes from the Greek and means to draw with light. On January 8, 1840, the first photographic camera arrived in Brazil. Therefore, on this date, the photographer's day is celebrated..
Although taking photos is much simpler today than it was centuries ago, it is still na, art that requires a lot of work and talent from professionals. After all, more than registering a moment, a photo shows a view of the world. And for that, the photographer needs to study to develop a unique look, as well as to master the techniques of focus, exposure time and much more.
That's why, on this photographer's day, we tell the story of three professionals who learned the trade at Ramacrisna Institute.
"Being a photography professional goes far beyond taking beautiful photos"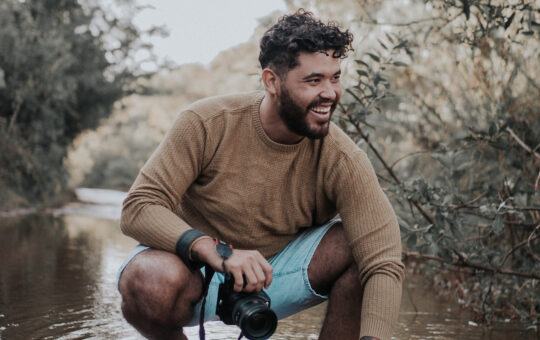 This is how Filipe Abras defines his profession. He says that the beginning of his career as a photographer was magical and that he soon discovered that the work involves much more than taking a simple photograph.
His first contact with professional photography was at Antenados Produtora, where he joined as a young apprentice. There, he was able to learn theory and practice, in addition to having access to content that provided the basis for experimenting, making mistakes, evolving and discovering himself in the area.
 Afterwards, Filipe became a photography instructor at Antenados, working so that other young people could learn the techniques of the profession, opening the way for new talents..
His time at Antenados Producer took place between 2012 and 2016. Today, Filipe works independently, performs tests and creates content for business social networks. He has already worked with several national and international companies in different areas of activity.
"The beginning is magical, you have a whole universe to explore and it has no end, it's a very organic area. In addition to aesthetics, art and purpose, there is also management, communication, marketing, relationships and go".
Filipe says that the pandemic has greatly harmed the photography market and that professionals who did not seek to reinvent themselves were left behind. "Today I am in a process of self-knowledge, planning and experimentation. My work focuses on generating connections through my photography and developing projects that align with my purpose, which is to live", he says.
Photography in favor of female self-esteem and empowerment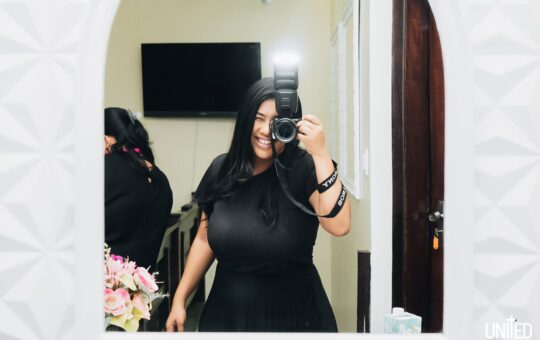 Photographer Cleidiane Duarte works with the production of female essays. In her portraits, she seeks to register the different beauties and personalities. For her, one of the best moments of her profession is knowing how her photos help them to feel more beautiful.
Like Filipe, Cleidi started in photography at Antenados Produção, where she stayed from 2011 to 2020. Until 2012, she was a young apprentice and, in the following years, she served as an instructor. For her, the experience with the production company was the gateway to the universe of photography and audiovisual.
At the production company, Cleidi had the opportunity to take photography courses with renowned professionals in the field. At the same time, he completed a degree in Advertising and Advertising, which expanded his career possibilities in the field.
In over a decade of photography, she has worked in various fields such as weddings and birthdays. But, today, her work is focused on portraits and her biggest demand is female essays.
"The photography is amazing for several reasons, but receiving feedback from customers saying how important that shoot was to restore their self-esteem is priceless".
Photography was a dream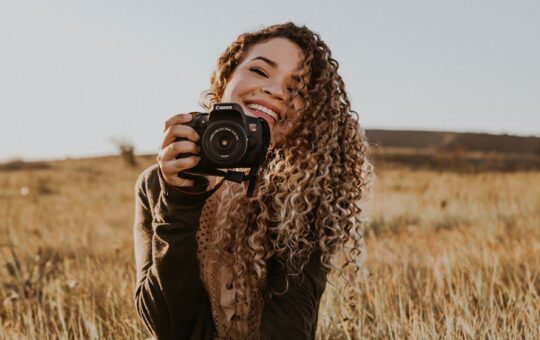 Being a photographer has been Lorrany Ramos' dream since she was 11 years old. Today, she not only became a photographer, but also works recording dreams: covering and rehearsing weddings.
The admiration for the profession made Lorrany look for a place to learn how to photograph and also put into practice what he learned. "That's when I met Ramacrisna", she recalls.
So, she joined Escola Multimídia Antenados and weeks later became a young apprentice.
For her, her time at the Producer was essential for her training as a photographer. "There I learned from the beginning of photography, even how to be a professional in the field. It was my first contact with a camera," she says.
"Currently, I work with wedding photography, an area that I identified with and am passionate about. I'm very grateful to be able to work with what I've always dreamed of, in addition to having good feedback and great experiences".
About Antenados Producer
Antenados was created in 2007 as a communication project by the Ramacrisna Institute for young people in the region. In 2014, Antenados became a producer and started providing services to companies. In addition, it has developed its own methodology for training young people in audiovisual, the course is offered free of charge to young people aged 15 to 22 in the metropolitan region.
Currently, Producer Antenados performs various activities, with highly qualified professionals and state-of-the-art equipment. It is:
       

Coverage with photo and video (production and editing)

       

Institutional video

       

Commercial video

       

Video lessons recording

       

Voiceover for video

       

Subtitling of videos

       

Creating vignettes

       

Video editing (Adobe Premiere and After Effects)

       

Photography (production and editing)

       

Drone photography and video (high resolution images captured on Dji Air 2s drone)

       

Live streaming of events (Seminars, lectures, workshops, concerts and more)

       

Classes and workshops (audiovisual courses and workshops, with professionals trained in cinematography, photography, image editing and design)

       

Logo animation
Contrate a Antenados Produtora. Acesse o site, conheça o portfólio e solicite um orçamento.